Testimonials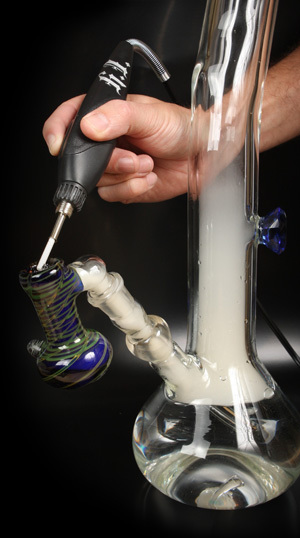 Osman Replied- As soon as I took the HerbIron out of the box i knew it was love at first sight..I wasn't able to put my HerbIron down!! The smoothness of the tokes made me overmedicate lol I dropped my H.I. and damaged it. I contacted the customer service and with their prompt great service I got my new H.I. rushed delivered to me. Now I take care of this one like the jem it is, thanks for the great product.
Adam Replied- I received my Herb Iron in the mail and been using it everyday since. It heats up in a matter of seconds. It brings out the taste in my medication like no other device. All my friends who medicate cant wait to put in their order. The customer service is just unbelievable! Same day response and sent my order out early so I wouldn't have to wait a three day weekend! I just cant say thanks again!
IamtheBest Replied- The Herb Iron has worked flawlessly for me it heats up in about 8 seconds from a cold start. I love how the cord is out of the way because of the spring. The best feature that I like is the push button for turning it on and off. I also noticed it practically cleans its self I am guessing because of the high heat. The design of the Herb Iron allows you to set it down and the ceramic tip is held about 3/4 of an inch above the surface and it is easy to hold in your hand. Their customer service is very good I had a few questions so I gave them a call the person on the phone was very friendly and helpful with answering me question. I got emails instantly after my order confirming that my payment was received and my receipt. The shipping was very fast I ordered it on a Thursday and received my package on Monday. I'd definitely recommend this product to anyone, you may think it's a bit over priced but with the warranty think of it as getting a two for one.
Ehle4209 Replied- Thanks for having the videos up of the Herb-Iron, that was true inspiration and motivation to get one and replace my hakko. glad i did, havnt burned my self or other things with the iron yet witch is a huge plus.
Mihir Replied- "The Herb Iron is incredible! After using it, I thought of why I hadn't done this WAY before now! Anyways, GREAT PRODUCT!! GREAT COMPANY!!
Vita Replied- Since you dropped off my Herb-Iron, I have not put it down! The Doctor yelled at me for over medicating because I was loving my newest toy (The Herb-Iron).
I have been telling all my friends how great it is, so nice not to breath in anything other then medication. While enjoying all the taste and flavor the different flowers have to offer. Where has this been over the years!? Thank You for making a great product!!!!!
SecreJardin Replied- I purchased this for my husband who without going into to much detail has had some operations done on his hands and is not really able to use a lighter when he medicates without help. The Herb-Iron is fantastic! He is able to medicate using just his Thumb and index finger with no undue stress or fatigue on his hand, I would recommend this product to anyone! Not only those with special needs but to those looking for a cheap alternative to Vaping.
Also the customer service this company offers is top notch. The Herb-Iron was shipped on Tuesday from Cali, arrived Thursday in NY. The owner personally answered all my emails quickly and went above and beyond to make sure that we where satisfied with their product.
I am in no way affiliated with this company, nor am I receiving any compensation for this review, I just wanted to share a cool new product with everyone.
xxxxKatexxxx Replied- After two great days our Herb-Iron malfunctioned. Knowing that there was a warranty we sent out an email and awaited a response. Our email was answered almost instantaneously! A new unit was sent out and received within two days of sending the email! We are now the proud owners of two Herb Irons, which should be testament to how great this product is! Their customer service is excellent, something other companys should strive for.
MediKater Replied- I've used other types of soldering irons like the phedor and I must say the Herb-Iron has to be the best one I've come across.
Soundrone Replied- Holy **** this is bad ass…I am ripped!!!!!haha! this is way better than the hakko! nice pro looking printed stuff and that is a bad shirt! i am totally stoked!
Eminent24 Replied– The Herb-Irons great !
Rootsroots87 Replied- The Herb Iron is a great product, the on/off feature is something that I have been waiting for ever since I found the benefits of using a ceramic heating element. The Herb-Iron is simple to use and it turns off once you let go of the power button. To me, this is one of the safest and cleanest ways to medicate, no more ifs, ands or butts about leaving modified soldering-irons on while I am not at home.
Drugerpirate Replied- Hi webechillin420 is my best friend and he received his Herb-Iron about a week ago and it's amazing. I've been telling the smoke shops I buy from about it and a few seem very interested. I just wanted to let you know you have done a very good job manufacturing your product, and that I will be buying on very soon.